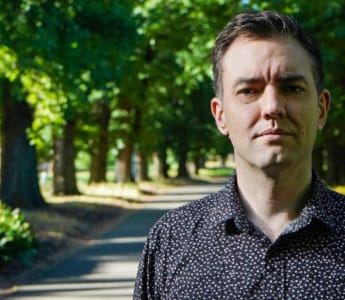 The Writers Victoria Board is thrilled to announce the appointment of Alex Hammond to the role of Chair, taking over from Noè Harsel. 
Alex has served on the Writers Victoria Board since April 2021, including as Chair of the Membership Working Group. He has over 20 years' experience as a digital communication and marketing specialist.
Alex is currently the Associate Director of Digital Engagement at RMIT University, where he leads digital strategies to support the university's recruitment objectives. He is the author of The Berlin Traitor (2023, Echo), The Paris Collaborator (2021, Echo), The Unbroken Line (2015, Penguin) and Blood Witness (2013, Penguin, shortlisted Ned Kelly Award for Best First Crime Novel).
Noè Harsel has served as the Writers Victoria Chair for over three years and been on the Board since 2018. She was recently appointed as the new Museum Director & CEO of the Jewish Museum of Australia: Gandel Centre of Judaica so has stepped back from Chair of the Writers Victoria Board, but will remain as a Director. Writers Victoria wishes Noè the best in her new role and we are thrilled for her and for the Museum.
"Noe was an inspiring Chair and I'd like to congratulate her on her new role. I look forward to working with our CEO and her wonderful team to support and grow our diverse community of writers and deliver on Writers Victoria's strategy," says Alex.
Noè says, "Being the Chair of Writers Victoria has been a great privilege. I pay tribute to the wonderful work of CEO Lucy Hamilton and all the staff at Writers Victoria. The work that they continue to do, year after year, bringing incredible programming, courses, and opportunities for all writers is inspirational. I know that Alex will inspire great leadership and look forward to working with him and the rest of the Board." 
You can read more about the Writers Victoria Board Members here.