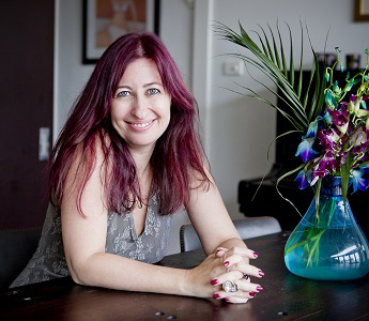 This article was originally published in January 2019 on our 'Writers on Writers Vic' page, for our 30th year of operating.
Lee Kofman is a Russian-born, Israeli-Australian writer. She wrote the critically-acclaimed memoir 'The Dangerous Bride' (Melbourne University Press, 2014), co-edited the anthology of personal essays 'Rebellious Daughters' (Ventura Press, 2016), and her short works have been widely published in Australia, UK, Scotland, Israel, Canada and US, including in 'Best Australian Essays 2012'; and her blog was a finalist for Best Australian Blogs 2014. Her latest release is the creative non-fiction book 'Imperfect' (Affirm Press), published in January 2019. 
Lee joined Writers Victoria in 2002 and since then she has been involved with the centre – today she is one of our tutors and writing mentors. Lee, who also holds a PhD in social science, says WV was crucial in her development as an Israeli-Australian writer.
"WV has played not an important but an essential part in my becoming a part of Australian literary scene as a writer, teacher, mentor and blogger."
Tell us about your involvement with Writers Victoria.
I signed up as a WV member in 2002. Since then, I've never let my membership lapse. Over the years I did some workshops, which were great, and attended many events where I could meet my peers. Since 2007 I've also been involved with WV as a tutor and mentor, and I was their blogger-in-residence from 2013 to 2016 − something I greatly enjoyed but had to stop once I signed simultaneously two book contracts with fairly tight deadlines.
What difference did this experience make to you and your writing?
An enormous difference! When I first discovered WV and joined as a member, I'd been in Australia for just three years. I had three fiction books published in my previous country of residence, Israel, but zero knowledge of the local literary scene. Joining WV was crucial for me in getting the courage to transition to writing in English and defining myself as an Israeli-Australian writer (as opposed to just an Israeli writer). For a long time, WV was my chief, if not only, source of knowledge about local publishing opportunities, various writers' festivals which I've since attended greedily, and available literary grants and residencies some of which I later went on receiving. It was also thanks to WV that I began meeting other writers and forging literary friendships. In short, the centre was crucial in helping me feel that I hadn't lost my writerly identity despite my migration. But that wasn't all.
It was also WV's 'fault' that I discovered the writing genre that I've become passionate about – creative nonfiction. It was in their magazine that I saw a call for submissions by 'Griffith Review', asking for personal essays on the theme of communities. At that time, in 2003, I had never written a personal essay (nor read many of them), but 'communities'? What freshly minted migrant will not have something to say on the subject? So I wrote a piece about how, of all places, it was in Australia that I, a second-time migrant, reconnected to my Russian roots after meeting Russian-Australians. Writing that essay made me realise that this type of writing was what I wanted to focus on for the next many years. As if all what I've listed so far isn't enough, WV was also one of the first places to give me the chance to launch my career as a writing teacher and mentor. I had some experience in both occupations when I began working with them in 2007, but not extensive. Plus, I was then still a fairly new, and heavily-accented, migrant. And yet WV gave me the chance, employing me, and I've since been working with them regularly for 11 years now, and went on doing similar work in many other places in Melbourne and all around Australia. Finally, when in 2012 I approached WV with a proposal to do monthly blog posts, or rather mini-essays, unpicking the writing process, WV responded fast and enthusiastically. Doing that blog was vital for me both in finding new audiences for my work, but even more so in honing my understanding of the writing process. And later I continued this blogging privately on my website too. To sum up this obscenely long response, WV has played not an important but an essential part in my becoming a part of Australian literary scene as a writer, teacher, mentor and blogger.  
What advice do you have for aspiring and emerging writers about engaging with their local writers' centre?
You can never join in early enough! In fact, every time I teach a course or a workshop which isn't based in a writers' centre, or begin mentoring a writer, I urge them to get involved with a writers' centre. I know I may sound like some promotional ad, but I seriously believe that the main antidote to that famous writer's malady – loneliness, isolation – is in hanging around with peers. Today writers' centres seem to serve a similar function to that of literary salons from the previous centuries.