by Nicole Brimmer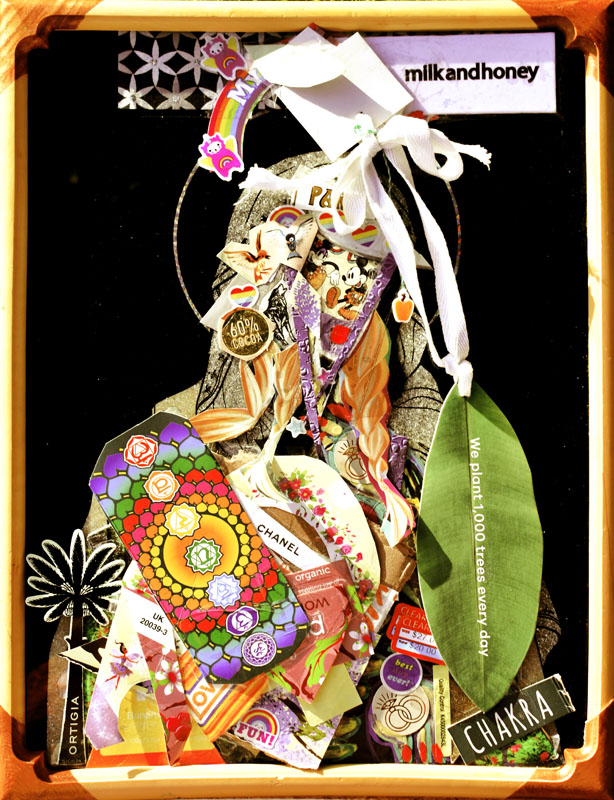 I stumbled home through a ravishing landscape of clay pipe, with gouche on paper. A print to go, I would work on after work. Myself, An Australian painter, a tragic artist, the work titled 'Ultramarine'. Almost psychedelic. I opened the door to my small-scale city apartment, titled 'House and Street' (1931). Glad to be out of the Australian Contemporary Art Scene, I turned on the light, a string which hangs down the ceiling with a great sense of the parallel line. To my surprise and shock, the hallway is filled with the atmosphere of a party. I scan the room, It's my birthday. Charles Mingus plays on the record player, 'Freedom' (1963), another past-life discourse memo hit. I put my artwork on the table beside the door. I light a lucky strike cigarette, slide the packet back into my shirt pocket.
'The luck of having talent is not enough, one must also have a talent for luck.' Hector Berlioz.
I hoovered around the Art gallery perceiving myself as a work of art, thinking of Jeff Koon's sculpture titled 'Rabbit' (1986). An untitled installation of framed photographic mirrors brings the rabbit to mind, illustrations of homely picket fences stand before me. My spray-painted hands show the blobs left over from last night's mural painting. A colour fusion into fake fingernails as I view the art with a certain melancholy. Perhaps I am a rose that grew from concrete, or likened to the readymade 'Fountain' (1917) by Duchamp, a vision makes itself known, rising up out of the gallery floor. The plaque on the wall besides the work of art reads…
'Now if you listen closely, I'll tell you what I know, storm clouds are gathering, the wind is gonna blow. The race of man is suffering and I can hear the moan, cause nobody, but nobody can make it out here alone.' Maya Angelou.
Romans and Aliens, A Fragile Beauty, A Testimony in Stone, Faces of the Sea.
When the storm hit, for me, it was the 'Love Boat' (1976) capsizing on The River Styx of Greek mythology, meets 'The Teenage Mutant Ninja Turtles' (1990) deep down in the storm drain, the storm in the city. Here I was, with hypocrites and Harpocrates stuck inside a Greek myth in secrecy and silence. Life was becoming 'The Chronicles of Narnia: The Lion, the Witch and the Wardrobe.' (1950). You didn't want to leave the cupboard at work. I was stuck working there, as a cleaner, my name tag, merely read 'Cinderella'.  
You were over invisible stingers and sick of dining on jelly fish toilet cubes. Your Scooby Snacks were running on empty. Your past lives were numbered, and your ghost patrol was a small cleaner's room, nothing but a ladder out the back of the museum, a wardrobe filled with secrets. You liked the look of the scissor lift more than the entire art exhibition. Something was wrong. How were you ever going to purify this Scooby Doo crime world of its false mask scenario? You couldn't. After all you were just the cleaner, you were Cinderella, the Blue Loo professional, the eye of the storm.
An opera, titled Symphony no. 9. In E minor 'From the New World' By Dvorak (1893) simultaneously echoed in my ears, in the midst of writing 'Memo no. 2, 1956 IN FULL SWING'. When my train of thought was intercepted by a platter of figs, mangoes, papayas and lychees, surrounded by a moat of cheese, prosciutto and tiny American flags on wooden sticks stuck into Japanese Mochi Rice Cakes. The name Haruki Murakami sprung to mind, Kafka on the Shore. It was the midnight blue housed in the Fairy Godmother's sweater that called to mind this poetic memory.
My Fairy Godmother took the eggbeater from the cupboard, an electric fan from the desk, and a rubber glove from the sink and nailed them onto a table. I pushed the button on the eggbeater. I switched on the fan. I filled a bowl with still life elements. I did nothing but paint. Banana, grapes, oranges and wine soon became punch and here I was, a fantastic colourist. Hitting high key colour.
'Thanks so much, I really appreciate this gesture'. I scan the room and see a painterly quality of textured people, a room filled with bold colour, friends of friends and family, pets, New York fashion, beverages and platters. I smile awkwardly and nice at the shifting colour of dresses that fill the atmosphere with their abstract gazes, often looking back at me in their wearer's smiles.
Was this all there was to life? Was I a sea? A river? A Readymade titled 'Fountain' staring into the eyes of the 'Rabbit' from across the Royal Palace floor. An idle sculpture-esque beauty about me, a still life. A naked inferno? Just like the road was as the autobahn, a highway with no speed limit assigned itself. A famous song by Kraftwerk (1974), an innovation on a drum machine. A fairy-tale rewrite, a Junko Mizuno comic titled 'Cinderella' (2002) purchased in French from the Palais de Tokyo.
Now I had nothing to wear to the Royal Ball. Russia and Ukraine were the casualties of their man-made war, a failed marriage proposal. 'Marry Me, or I'll Kill You' A Romance ruined.1 A tale from an album by 'Egyptian Lover', was being sabotaged in secret.
I was merely just a disabled lover, standing in the centre of a storm, with umbrella and raincoat, Kohl rimmed eyes and snaky black hair. I found my way to the shelter inherent within Zero Point. Here in the eye of the storm, with Stevie Wonder blindly playing a piano using only the black keys to create some sort of beauty. That was me, a piano player, playing with the black keys. In the midst of a storm, A war, not only with the mother-earth, yet the entire human population.
Definition of quiet nights will be spent alone by Stevie Wonder. Yes that's me, I can identify. Little by little, I'm losing interest wishing Shakespeare's poetic tongue would hijack the entire English language. You knew that Putin would be there too speaking, in-flight 'Plane' English and your evil stepmother. You would be accompanied by Lady Tremaine, Drizella and Pussy Riot. You had no time, you had to find an outfit to wear to the Royal Ball.
I go to DFO shopping village to find my perfect outfit to wear to the frontline. I'm finally in love like a morose child of god, incarnated into a battlefield of buckets of G strings, selling for $2, with messages on the front like 'Cake over Men' or 'Christmas is Here'. I run my hands through buckets of five- dollar stock and guns with contradictive messages such as Fosters Beer and Paranormal. Polyester scarves, rib singlets and brightly coloured reduced-to-clear swimwear.
I was not the hymn, 'Rock of Ages' (1763), I was the drowning siren, becoming a mermaid. My imagination was taking over. Drawing was becoming drawing inside my mind rather than making art, art that wasn't being produced, only internally, internal thoughts were making canvases, my mind was a canvas, a painting. Gazing into the eyes of a fairy god mother, creating one law to do so. Crossing oceans. Charles Mingus, 'Beneath the Underdog' (1971). Jazz filled the room, it was a swing landscape in 1938. My fairy godmother had finally created her masterpiece, a dress, some glass slippers and a pumpkin carriage. I was on my way to Fight the War.
Driving in my Mercedes Benz on the way to the palace ball was fun, with my fairy godmother, especially more so fun. I was becoming Althea and Donna's pop reggae classic, poking gentle fun at the more orthodox attitudes of Contemporary Arts Culture, whilst confirming I was still 'strictly roots' – true to my origins. 'See me in mi heels and ting …' dressed to go out – uptown top ranking, going to town to show off. 'See me in mi Benz and ting, Drivin' through Constant Spring…' driving in a Mercedes down Kingston. Later, I would refer to wearing '… me khaki suit and ting…'2 meaning that I can dress as deemed suitable. And how I see fit, after all I was going to end the war.
The Royal War at the Palace de Tokyo experience of architectural space was fraught with psychological and ideological implications. The thick protective glass on the photograph frames reflected the gallery and its visitors, absorbing them into the images. Reminding the audience that, these iconic buildings are now relics of an Erstwhile Paradigm, they are part of a history, whether heroic, sad, dramatic, or diabolic. To which we all still belong. This installation transformed the kunsthalle into a monumental space in which the combinations of different vernaculars created visual discrepancies that sought to question the codes and received orthodoxies underpinning these disciplines, yet, in doing so, 'Cinderella' as readymade was simultaneously able to reinvigorate them.3
'The "Urinal" photograph is really quite a wonder – Everyone who has seen it thinks it beautiful – And it's true – it is. It has an oriental look about it – a cross between a Buddha and a Veiled Woman' (Naumann 2012, p.74).
Becoming more and more abstract, like an abstract painting as time went by. I saw myself as 'Du Champ's' readymade 'Fountain' in an art gallery staring straight into the eyes of Jeff Koon's 'Rabbit'. We stood there from across the gallery space, the viewer, viewing the viewer, the ways of seeing by John Berger (1972), The gaze of the artist, viewing the curator, viewing the work of art, viewing the audience, it was I the failed artist, the readymade. A reflection of the Art Gallery and their art, Duchamp's Fountain, Gustave Courbet's 19th Century painting titled 'The Origin of the World' (1866) that was me, a victim of Realism. Machine gun in hand, semi-automatic. I set fire on the frontline. To end the dictatorship and the evils of hell, Peter Gronquist, 'Deers, Skeletons and Machine guns' (2011) fled the scene. 'Terminator 3: Rise of the Machines' (2003). Cinderella is dead. 'The Evolution will be fabulous', Caught in a crossfire, between heaven on earth and hell.
I dusted the sponsorship board with a feather duster, a gallery maid, in a gallery, that was I, with many names on the board. Like 'Numbers on the Boards' (2015) A song by Pusha T. I was just like Sally from Tim Burton's 'The Nightmare before Christmas' (1993), whom lost her limbs on multiple occasions and 'Edward Scissorhands' (1990), who liked to make art out of hedges. With hands that felt like scissors. I'm an innocent bystander, a civilian caught up in cease fire. A post war-torn mess, a catastrophe, a rogue, a blind Ninja, I'm a 'Baby Cart at the River Styx' (1972), a Ronin, a Samurai, a 'Lone Wolf and Cub' (1972) Boxset from The Criterion Collection.
I was riding a Love Boat, down the storm drain in a city which felt foreign. A ninja turtle action figure, an April O'Neil computer programmer, fighting a fight where vision will same the warrior alone before the sword strikes. I had watched too many films for real, as in the song by artist Tricky. From a few years of standing frowned with line ups of men staring at me the wrong way, in the auditorium, with my semi-automatic, AK 47 in hand. Arts beginning and end, the nude is dead. The 'Rabbit' and the 'Fountain', views the viewer, viewing the arts object, embodied by the all-seeing femininity of the mind and heart of the artist. My body was strewn on the pavement. Splintered war-torn, a chocolate Jesus, A Mary Magdalene on a crucifix, the gift of easter. I was Just another lost saint singing the Lord's Prayer in Aramaic on the Altar of the Christ.
1 Fat Mike's Fat Mic `The Mad Twins have to get their mom to Romania' – 2022. retrieved from. https://www.youtube.com/watch?v=PMpYyetFBIY
2 Althea and Donna `Uptown Top Rankin' – 1978. retrieved from. https://www.youtube.com/watch?v=joh37lrvf-s
3 Curiger. B, "Gunther Forg " In Defining Contemporary Art, 25 Years in 200 Pivotal Artworks. 2011. Phaidon Press. P.6.
***
Nicole Brimmer is an emerging artist and writer interested in the hybridization and juxtaposition of literary and art genres and Experimental writing practices. She is published in Writing in the Expanded Field (ACCA), Rhizomes.net and ABC open. Her work is a reflection of everyday life in the city and industrially designed environments in contrast with the organic processes in the natural world.
---