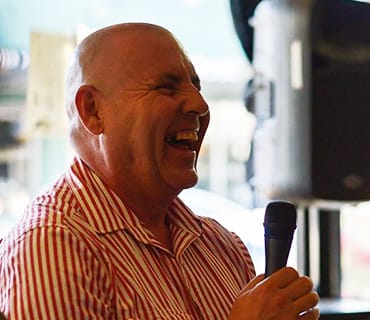 Over 12 years Raphael Kaleb has proved he is a man for all disciplines, and his article reflects this.
The Land of Opportunity
Right now is the Land of Opportunity for Creatives. I can hear laughter. Everything is cancelled. We can't go out. We are in Lockdown. That is precisely the point. Because people are at home, that means they are looking for more entertainment online. It's the perfect time for writers.
There's so much to do. In April I took part in Writers Victoria's Focus Flash Fiction competition. Check out Writers Victoria website for what else is happening.
That's one way to connect with other creatives. Here are some others:
Start adding image descriptions to every post on Social Media. Many arts grants ask about Accessibility and Social Inclusion. People who are blind or have low vison are part of the community. Adding an image description provides evidence you aim to include everyone. Have a good look at Carly Findlay's articles. They all include an image description. https://carlyfindlay.com.au
Learn to use the camera on your mobile. An image is worth a 1000 words.  Using your own images with articles gives you more control of the creative process. A big hint for social media is to use the 'Square' setting on your mobile. This reduces editing and works well for Instagram. Here's one of my own photos to show you what I mean.
Build a digital social media profile. Include links to the great blog articles you have written. Add photos of yourself performing. Include awards and courses you have done. Add a few comments from Social Media showing how much others love your writing. Make sure you add image descriptions and credit people for their photos of you.
Create special themed content for people. For example: Decluttering with before and after photos. Become the expert telling people how you went about it. Let them know how you felt and how long it took.  
Write television or film reviews. Come up with an unusual angle to analyse them. Send the article to the television station and producers of the show. Start conversations with people who are working in the creative industries. Build your contacts. You might be that creative consultant they employ because of your insight into content.
What are others doing at home? Cooking. People are looking for recipes. Write a step by step guide for your favourite meal, along with photos of each step. Include cost per serve and whether people can freeze it. Put those creative skills to use with catchy names like The Beurologist's Brilliant Broth, a thick root vegetable soup with home-made stock and Italian herbs served with home-made bread. Oh yes. Let others know they have a gourmet chef they can engage with.
Perform your own work. What is more impressive than a well written article? Performing it from memory. Turn it into a performance piece. Add gestures and movements and increase your vocal range. Ask a musical friend if they will make a backing track for you to use. Build a repertoire of pieces. This is the time to turn written language skills into spoken word encores.
Write Hand Written Letters to others. It's time to reinvigorate the art of personal letters.  it shows others how much you care. Most mail today is bills or advertising material. Nearly everyone sends an email or phone calls or Skypes. I know how much I appreciate receiving a handwritten letter from friends I rarely see. It's special.
Now is your chance to take that junk mail and Develop Copywriting Skills. Rewrite the advertising material of small businesses. Do this for 2 or 3 different businesses and gauge feedback. Develop clientele as a freelance writer.
Listen to podcasts. The Boldness Disability Current Affairs on 3CR has interviews on many aspects of disability. There are interviews on housing, employment, arts and creativity to name a few. Contact podcasters and hosts giving them feedback and pitch ideas about subjects you are interested in.
Complete online courses like Writing A Press Release or Social Media Marketing. Linkedln has many short courses and workshops. What about Online Courses delivered by TAFEs and Universities? Check to make sure the organizations are Registered Training Organizations first.
Above all, practice self-care and stay kind to yourself. Hug a teddy bear. Making friends with myself was one of the best things I ever did. I learned to like myself, what I did and what I wanted to do. One of the most healing exercises I did was write letters of advice to a much younger version of myself. They contained the information, knowledge and experiences I would have liked to have known and practiced when I was younger. As a result of those letters, I developed guidelines and insight into what is important to me as a person and what I wanted to do in the future.
As a writer there are many ways to make a difference and connect to the community. Writing poems is more important than ever. I wrote this poem, "The Language of Compassion" in 2014:
Walk with the world

A stranger is a friend

If they are hurt

Be prepared to attend
It is still very relevant to the community during Covid-19. The topics that give me the most satisfaction contain values and ideals that benefit others.
During Covid-19, I've developed a routine. I get up, make my bed and have breakfast. I go for a walk. I ring at least 1 person each day. I make a list of what to do each week.
My creative future is looking very different to what I expected 3 months ago. I've had my first Solo Photo Exhibition postponed, two competitions and a film festival were cancelled.
On the bright side, I've built a Home Stage for rehearsals. I am learning to broadcast from home and gained new skills such using Zoom. Being flexible has helped me stay positive. Covid-19 has created The Land of Opportunity. By making conscious choices you can use your time this winter wisely.