"Under the current public health circumstances, and with great sadness, we have cancelled the Hazel Rowley memorial lecture, scheduled for Friday 20 March at the Wheeler Centre, Melbourne," announced Della Rowley, Hazel's sister, today.
"At the annual lecture, we announce the Fellowship winner for the year, and it gives me great pleasure to announce Lance Richardson as the winner of the $15,000 Hazel Rowley Literary Fellowship for 2020. Lance has won for his proposed biography of writer, naturalist and Zen Buddhist, Peter Matthiessen."
"The judges all agreed that his proposed biography of Peter Matthiessen is an outstanding choice for this year's Fellowship," said Jenny Hocking, one of the four judges.
"Lance's subject is probably best known as the author of 'The Snow Leopard', the account of his journey in remote Nepal on the Tibetan Plateau. The judges were impressed by the quality of Lance's writing and the international reach of this ambitious proposal".
"Lance's proposal to retrace Matthiessen's journey of the Snow Leopard recalls Hazel Rowley's own commitment to exploring the lives of exceptional biographical subjects," said Jeff Sparrow, another of the judges. "Matthiessen was a major international figure, who wrote over 30 books, and helped found 'The Paris Review' and we see this as an important biography."
This year's judges also gave a Highly Commended Award, and with it $5,000, to Gabrielle Carey for her project on writer Elizabeth von Arnim, a successful author in her own right and also the cousin of Katherine Mansfield. "We were very impressed with this proposal and we wish to encourage Gabrielle in her endeavours to complete this work," said Della Rowley.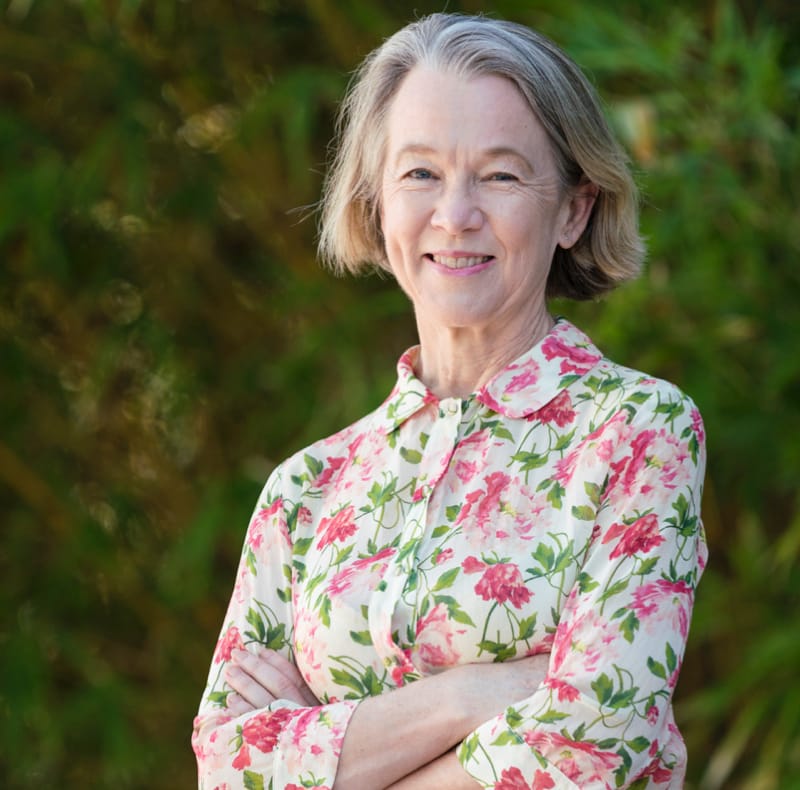 Gabrielle Carey, Highly Commended in the 2020 Fellowship
"At a time when authors are experiencing significant income losses related to the COVID-19 pandemic, awards like the Hazel Rowley Literary Fellowship are more important than ever," said Angela Savage, Director of Writers Victoria, which helps administer the fellowship. "Writers Victoria is delighted to see the awards with a total of $20,000 allocated, despite the regrettable cancellation of the memorial lecture."
There was strong competition for this year's Fellowship. Lance Richardson's project was selected from an outstanding shortlist of proposals from emerging and established writers that included Margo Beasley, Diane Bell, Shakira Hussein, Stephenie Cahalan, Tegan Bennett Daylight, Suzanne Robinson, Gabrielle Carey and Madelaine Dickie.    
The Fellowship was judged by Jenny Hocking, Jeff Sparrow, Della Rowley and Lynn Buchanan.
The memorial lecture was to be given by biographer Jacqueline Kent, the 2018 Fellowship winner, who has also written a memoir about her brief but passionate relationship and marriage to Kenneth Cook. The Fellowship committee hopes to host the memorial lecture later in the year.
Now in its ninth year, the Hazel Rowley Literary Fellowship has a strong track record in enabling biographers and writers of memoirs to complete and publish their works. It was established to encourage Australian authors to attain a high standard of biography writing and to commemorate the life, ideas and writing of Hazel Rowley. In the space of just four books, Rowley established herself as one of the world's leading literary biographers, before dying suddenly in 2011.
About the previous Fellows
The 2019 Fellowship was awarded to Eleanor Hogan (NT) for her project on the friendship between Ernestine Hill and Daisy Bates.
In 2018, the Fellowship was awarded to Jacqueline Kent (NSW) for a biography of suffragist Vida Goldstein.
In 2017, Ann-Marie Priest (Queensland) was awarded the Fellowship for her biography of renowned Australian poet Gwen Harwood.
The 2016, the Fellowship went to Matthew Lamb (Tasmania) for 'Frank Moorhouse: A Discontinuous Life', to be published by Vintage.
In 2015, the Fellowship was awarded to Caroline Baum (NSW), for a biography of Lucie Dreyfus (1870-1945).
The 2014 Fellowship went to Maxine Beneba Clarke (Victoria) for her memoir, 'The Hate Race' – about growing up black in white middle-class Australia. It was published by Hachette in 2016 and won several awards.
Stephanie Steggall (Queensland) used the 2013 Hazel Rowley Literary Fellowship to write a biography of Thomas Keneally, 'Interestingly Enough…' published by Black Inc. in 2015.
The inaugural recipient of the Hazel Rowley Literary Fellowship in 2012, Mary Hoban (Victoria), had her biography 'An Unconventional Wife: The Life of Julia Sorell Arnold' published in April 2019.
About Hazel Rowley
"My books are about people who had the courage to break out of their confined world and help others to do the same" – Hazel Rowley
Before her death in 2011, Hazel wrote four critically acclaimed biographies: 'Christina Stead: A Biography' (1993), 'Richard Wright: The Life and Times' (2001), 'Tête-à-Tête: The Lives and Loves of Simone de Beauvoir and Jean-Paul Sartre' (2005) and 'Franklin and Eleanor: An Extraordinary Marriage' (2010). Erudite and accessible, these studies brought fresh attention to the lives and works of significant figures both nationally and internationally.