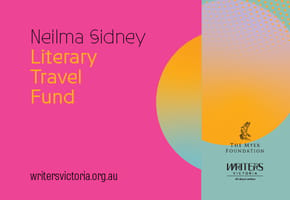 With the recent travel restrictions and health implications of the COVID-19 pandemic, Writers Victoria in consultation with the Myer Foundation have made the decision to postpone the current round of applications to the Neilma Sidney Literary Travel Fund.
We fully intend to reopen applications for Round 6 later in the year, when travel and international event attendance become more feasible. We hope to reopen for submissions in August, with the round closing in September, judging taking place in October, and travel projects occurring from November 2020 to 31 May 2021. 
Health and safety are of the utmost importance to us, and we have made this decision with the wellbeing of the public in mind. Given that many travel projects would not have been possible within the original time period of Round 6, we also hope that running the round at a later date will increase opportunities for writers and arts sector workers at a time when the industry especially needs this type of support.
The cancellation of international festivals, courses and events over the past month, as well as the inability to travel internationally, has impacted the proposals of previous recipients of the travel fund. As such, their travel period will be extended to take place beyond the pandemic, on submission of a new proposal for the use of their travel grant.
We will have further details available in due course, and if there are any pressing queries, please contact Writers Victoria at [email protected]
We encourage applicants who were hoping to apply at this time to look into other funding opportunities that have arisen, such as the City of Melbourne's assistance for creatives during COVID-19 and the Australia Council for the Arts Resilience Fund.