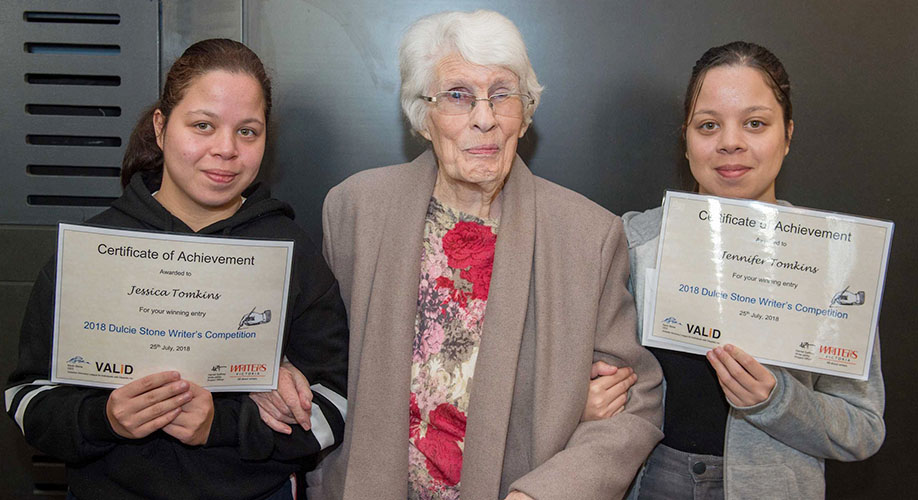 Six writers have been named as the winners of this year's Dulcie Stone Writing Awards at a recent ceremony at The Wheeler Centre in Melbourne. The awards for writers with intellectual disability are presented by VALiD and Writers Victoria, and in their second year attracted more than sixty written and illustrated stories on the theme 'Community – Here I Come!'
Judges Paul Dunn from VALiD and Writers Victoria's Write-ability Coordinator Harriet Gaffney were impressed by the ability of the entries to draw the reader into the authors' worlds.
"Many people have been very influential in creating the Write-ability program, however the thing that has united all of us is the understanding that stories bring us closer: hearing other people's stories and telling our own," Harriet said at the ceremony. "When we read or listen to stories and we recognise something that is happening, that we know or perhaps are one of the characters we are reading about, we feel as though we are part of something bigger than us. Stories help us feel recognised, they help us feel like we are not alone, they help us see that we belong."
The winning entries by writers Cade Watkins, Adam James, Jessica and Jennifer Tomkins, Austin Hillas and Andrew Prior, stood out for their powerful stories that addressed the theme in diverse ways. Below are some of Harriet's remarks on the winning works:

Above: Dulcie Stone Writing Award recipient Cade Watkins (left) with his father, Neville.
Cade Watkins
There is a rhythm, a rise and fall in Cade's long poem that grabs you immediately as a reader. Cade's story is vivid; it has this cinematic prose that is like watching a film and takes us right into the heart of who he is and what his life looks like. Facilitated by the incredible Write-ability Mentor Lyndel Caffrey at a series of workshops in Watsonia, the poetry inherent to this piece is, however, all Cade and it is beautiful – an exquisite, spiralling evocation of his everyday.
Adam James
 'Adz Antz – The Helper' began by noting that all the events in the story were true, before revealing Adam's alter ego: the X-ray-eyed, always ready to help Adz Antz, who jumped from the highest diving board in the pool to rescue a drowning child with "her hair silky wet"; or who, "another time about thirty years ago", calmed down his girlfriend Mandy when she was extremely upset.
"Adz Antz loves to help, and the delightful simplicity of this message – that always being willing to help is indeed an heroic act – left me feeling so  happy for the world that it is populated by characters like Adz" Harriet said.
Jessica Tomkins and Jennifer Tomkins
Sisters Jessica and Jennifer wrote separate stories that were so powerful, so vivid and raw, that no-one reading them can remain unaffected; stories that spoke to the changes that still need to be made in Australia about how we care for the vulnerable in our community.
Some of the stories we need to hear are sad stories; they are stories that make us worry about the people in them, stories that make us think 'Is our society doing enough to make sure that people with disability – that women with disability – are being looked after properly?'
The statistics around the abuse of women with disability in Australia are frightening, and those figures are further compounded for women with intellectual disabilities. I applaud the bravery of both Jennifer and Jessica in telling their stories and I congratulate them both on their writing – their stories have power, and more people need to hear them. 
Austin Hillas
Austin's first line: "Hi my name's Austin, I like anything with an engine strapped to it" grabbed the judges' attention immediately, before he continued to write about his wonderfully tightknit family, three generations of which lived together in a house behind the Cranbourne shops, while his dad worked at Ingham's Chickens and his nan delivered the papers. 
"This story is like a window onto a world that we don't see anymore," Harriet said, "a world where a boy loves to help his grandpa fix cars and who remembers not only the S Series Valiant that his grandfather was given by a good friend, but the hue and timbre of each successive colour it was painted."
Andrew Prior
Each line in Andrew's poem to his community of Moe demands the reader's attention, asking us to slow down for it, for us to take a walk with Andrew through the streets of his town, to feel what he feels day by day. 
Andrew's work started Paul and Harriet thinking about what else could be done with these stories and how great it would be to help other people hear them, and Writers Victoria and VALiD are aiming for involvement in upcoming events such as the Digital Writers Festival.

Above: The 2018 Dulcie Stone Writing Award recipients with award founder Dulcie Stone, and staff from Writers Victoria and VALiD. Image courtesy of Paul Dunn.
"What the Dulcie Stone Award has given me as a reader is an incredible awareness of each and every one of the people who entered," Harriet said. "We could select only six winners, but every story that we read was like looking at an incredible picture or film. The worlds created were so brightly coloured, so there. I personally feel like I know everyone who entered."
The theme of the 2019 Dulcie Stone Writing Awards will be 'Having a Say Forever!' Details of the competition will be available on our website closer to the date.