Thursday, September 1, 2016
By:
Allison Chan and Xia Cui for Peril Magazine
Peril's bloggers in residence Allison Chan and Xia Cui share this extract from the 2016 Chinese Writers Festival...
---
The street outside is all Sunday morning stillness and Spring teases - blue skies and sun caressing buildings, trees, pavement.
After registration, eyeing off the milk candies with a rabbit printed-wrapping (how long has it been since I had one of these?), we are ushered in to begin the content-packed day.
The theatrette ("-ette" denoting the cosiness of the community space) which begins to fill up at 9.55am, is only filled by 10.15am. At which point, the Mayor of the City of Yarra opens the festival, welcoming international writers and representatives onto Wurundjeri land.
Following Roberto Colanzi's welcome, the Vice Chancellor of the Chinese Consulate presented similarly diplomatic remarks about friendship, cultural understanding, and fostering a mutual relationship of the arts between Australia and China.
At this point, the labour of translation was in full swing. Interpreters flank speakers at the podium, furiously scribbling notes and delivering translations in real time.
After all the official opening ceremony niceties, author Lei Tao took the stage to deliver a keynote speech in response to the question "In a globalised society, how should a writer position themselves?
Delivered in Chinese, Lei Tao's speech concerned the position of the writer as a social activist. In particular, he referred to the concepts of "justice and integrity"--citing the lives of classic Russian and Chinese authors as exemplary champions of these causes.
Lei Tao's language was couched in revolutionary terms, citing the Pen as a weapon in the fight for justice and integrity in the face of international security concerns, environmental disasters, and social disintegration.
Lei Tao's emphatic and impassioned keynote was then followed by a panel discussing literature in Western Mainland China. On the panel moderated by May Hu was Lei Tao, himself a writer from Western Mainland China, and Yan Tong.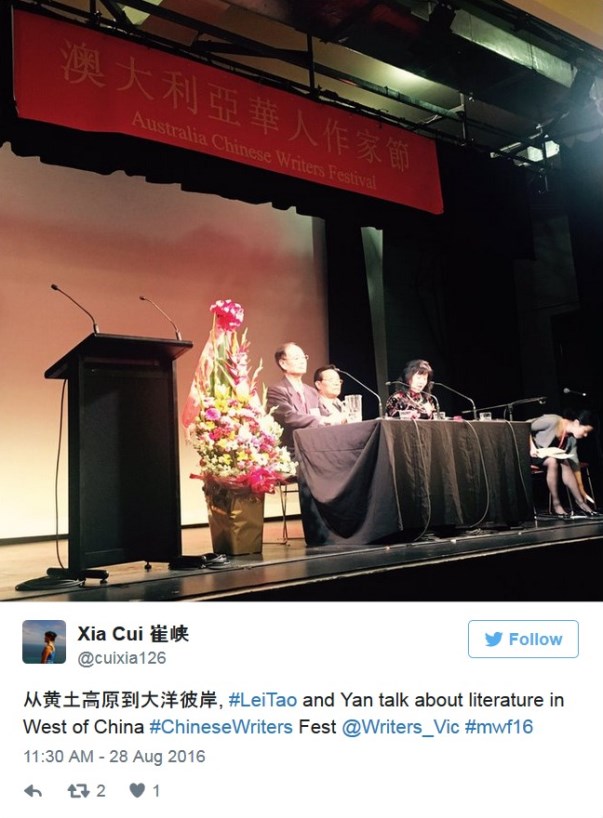 The writer as a mythological Greek bard-hero type continued to be reinforced in the discussion.
This prompted live-tweeter and blogger in residence, Allison Chan, to consider the way in which the writer in valorised in the discussion.
Read more
This extract was originally published by Peril magazine. You can read the full wrap-up of the Chinese Writers Festival on Storify.
You can also find a preview of Chinese Writers Festival guests Xu Xi and Ouyang Yu on the Peril website.
About Allison Chan
Allison Chan is a Singaporean-born, Malaysian Chinese who studies Indonesian, has a rough understanding of Mandarin, and is spoken to in Cantonese by family members. Allison is a writer-at-large, completing her studies in Literature at Monash University. She is currently co-producing Peril's upcoming podcast, Please Explain, which unpacks national conversations and the racial underbelly of Australian myth-making.
Allison Chan是一位新加坡出生的马来西亚华人,学过印尼语,略通普通话,与家人用广东话交流。作为一名左翼教授,国籍、种族和身份这类话题固然是Aliison Chan的关注点;而且,这也是她每日现实生活中无法避免的内容。除了在书店工作、在图书馆看书或倒在卧室地板上沉思之外,Allison将所有时间都用于在蒙纳什大学攻读文学。在本次作家节上,Allison担任驻会博主。
About Xia Cui
Living in Australia for over ten years, Xia has always been intrigued by the process of meaning negotiation among people from different sociocultural upbringings. How does miscommunication or a conflict occur, for example, get resolved, or not? She's constantly seeking answers to questions like these through her roles including being a language teacher, translator/interpreter, academic and fitness professional. Xia is currently dedicated to developing immersion Chinese programs, and passionately working with her fitness clients every day towards their goals!
在澳洲生活的十余年间,崔峡所从事的职业有语言教师,翻译员,研究学者, 健身教练等等。在她工作生活的人际交往过程中,崔峡始终有着强烈兴趣并不 断探索的是,来自不同社会文化背景的人们是如何进行意义沟通的。误解甚至冲突是怎样产生,化解,又或不了了之?崔峡目前致力于开发沉浸式中文教学课程。与此同时,她每天都在充满热情的与自己的健身客户一起努力实现他们的健身目标