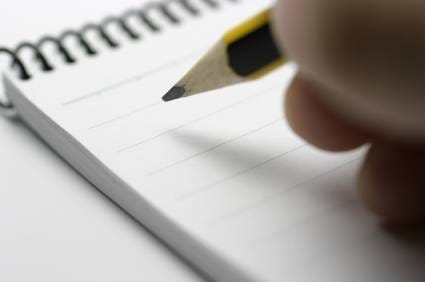 Chris Thompson's introduction to Writers Victoria (then called the Victorian Writers' Centre) took place in late 1990 when the organisation was located in Tasma Terrace in Parliament Place, East Melbourne.
As Artistic Director of St Martins Youth Arts Centre, Chris went to the National Trust building to meet with Agnes Nieuwenhuizen to talk about her Youth Literature Project.
"The place was so small and space was so tight that her 'office' was a desk on the staircase landing between the ground and first floor," Chris remembers fondly of the lovely old terrace house.
The Youth Literature Project would later move from VWC to St Martins before evolving into the Centre for Youth Literature at the State Library of Victoria.
Chris kept in contact with the organisation during his time with the Boorondara Writers Festival in the early 2000s. By that time, VWC was based in the Broom Factory in Fitzroy, a building with long, wide cream-coloured corridors and no windows that "made people feel like they were in some sort of science fiction film."
A theatre-writer himself, Chris became a member of both VWC and the Fellowship of Australian Writers at that time in order to support the sector he worked in and to get access to the lists of writing competitions both organisations posted out to their members each month.
Later, when VWC moved to the Nicholas Building in Swanston Street, he became reacquainted with it as a colleague of its then Director, Joel Becker, when they were both on the Arts Industry Council of Victoria that used to meet in the VWC workshop space.
In 2005, Chris was appointed as Chairperson of the Committee of Management, helping to reinvigorate the board, with policy development and governance of the organisation and, later, getting involved in the negotiations around the development of VWC's relationship with The Wheeler Centre for Books, Writing and Ideas – which originally included plans for a crèche and none of the fantastic free programming we see in the building today. Together with Joel, the Committee of Management and VWC staff, Chris oversaw the organisation's revamped look, new website development, and relocation to the Wheeler Centre.
During this time, Chris also remembers proudly how VWC began to change the way it worked with regional communities and marginalised groups to make sure that the predominantly Melbourne based organisation was able to support all of Victoria's writers.
Chris sent us a birthday message to celebrate the organisation's 25th anniversary this year…
"I guess the VWC (as it was then) was barely a year old when I first visited it in Tasma Terrace. Like a lot of significant relationships, I had no idea then that almost twenty-five years later I would still proudly be associated with Writers Victoria (as it's now known).
Over that time, our relationship has taken many forms that have provided me with many different perspectives from the outside as an industry colleague, to the inside as part of the Board and, once or twice, a speaker and mentor in the programme, to my longest and current status as a member.
Twenty-five years is a significant milestone, but organisations in the arts only achieve longevity if they have the ability to change, to adapt, and to continue to find relevance in a dynamic environment. In one of my last official activities before the end of my term as Chair, we undertook a major round of strategic planning, tapping into our past in order to envision the future. The willingness of the many participants in that process to freely imagine how this organisation could and should change left me feeling confident that the longevity that Writers Victoria celebrates this year is one that is well earned and destined to be repeated in subsequent years.
So happy birthday, Writers Victoria, and I feel safe in wishing us all many happy returns."
Chris was awarded Life Membership of Writers Victoria in 2010 for his contribution to the organisation, having served a full six years on the Committee of Management.
(Interestingly, nearly 30% of our current Life Members are called some variation of 'Chris').