If you'd told me two years ago that I'd soon be the author of a picture book published in over ten countries, I'd have laughed.
I loved creative writing in school, and had won numerous writing competitions including an international poetry competition run by the Vatican, but I was eventually convinced that it wasn't going to lead to any kind of career. I studied one year of journalism instead, but dropped out to do a Bachelor of Arts majoring in Arabic, and a Graduate Diploma of Teaching. It was a long, fun and interesting road, and I don't regret any of it (if I didn't do a year of journalism, I wouldn't have met my wife!) but a part of me wishes I could go back and say this to seventeen-year-old me, 'study what you love, and see where it takes you!' I didn't study what I loved, but here I am in my thirties with two kids and two degrees, and a history of administration, retail and call centre work under my belt, making a career of sorts out of writing anyway. Life is strange, and sometimes truly wonderful.
In 2014 my wife gave birth to our first child, and I excitedly got down to work building the best picture book collection I could. There were my nostalgic favourites – Jeannie Baker, Mem Fox, Bob Graham and Alison Lester; there were the authors I'd studied at university, including Mary Malbunka, Elaine Russell and Shaun Tan; and there were those I discovered while browsing bookshops, like Britta Teckentrup, Jon Klassen, Bronwyn Bancroft, Oliver Jeffers and Marc Martin.
There were gaps, though. I'm bisexual and disabled, my wife is a lesbian and I have two mums myself – one of my parents came out as a trans woman later in life. My kids would be members of a diverse family, a diverse community, a diverse world, so it seemed weird that the picture books on their shelf had no disabled people, no LGBTI people, and way too many white people. You might think books with diverse characters are something only families like mine need to think consciously about, but consider what books full of the same characters and families say to any child reader. When your own story doesn't exist in the books you read, it sends you a strong message about your place in the real world; the kids who do get to see themselves and their families in those books get the unspoken messages about those 'other' people too.
We slowly started filling in the gaps, but there were so few books that dealt with gender identity. We bought the ones with gender non-conforming characters, books that made it clear there was no one way to be a boy or a girl, but we couldn't find books with characters that said, 'I'm not a boy, I'm a girl!' In the end I decided I'd try writing the picture book I needed.
In June 2015, I posted on Facebook asking if anyone knew an illustrator; my brother recommended Dougal MacPherson, and as soon as I saw his illustrations on Instagram I knew I had to ask him to work with me. Thankfully, he said yes, and Introducing Teddy become a collaboration. We put the book up on Kickstarter, and orders started steadily trickling in. It took off after the Guardian UK called to interview us for a story, and it really took off after Neil Gaiman tweeted about it! Eventually we doubled our target, and by November 2015 we had published the Kickstarter edition of Introducing Teddy.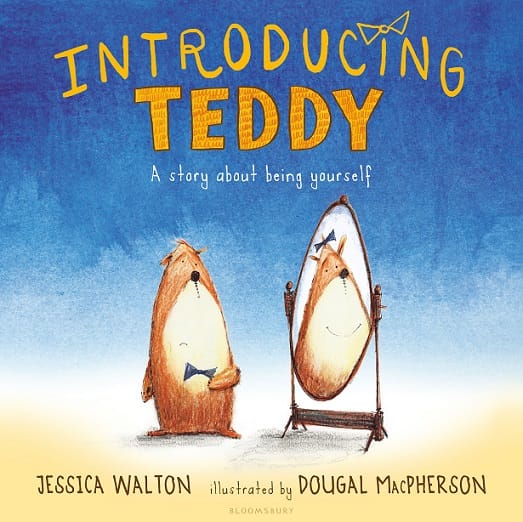 While the campaign was still running, New York literary agency Writers House got in touch and we signed up with an agent. I still remember the moment when I woke up to a call to say that Bloomsbury had bought the rights to our book. In June 2016, one year after I wrote the first draft of the Kickstarter edition, Introducing Teddy was published by Bloomsbury in the US, UK and Australia.
It has now also been translated and published in Germany, Denmark, Sweden, Finland, Italy, Norway, Spain, Japan, and Brazil. Articles about our book came out in publications around the world, including Der Speigel, Huffington Post, Bustle, and the Daily Mail. I remember sitting up after my family had gone to bed one night, waiting for a call from the BBC and thinking, 'what is happening?! Is this real?'
The publicity around the book has largely died down now, but it flares up again occasionally. In October Dougal and I were overjoyed to find out that Introducing Teddy had been nominated for the CILIP Greenway Medal in the UK for illustration. Just this week, someone tweeted pictures of Introducing Teddy after finding it in a library in the US, and it went viral. It's had 34,000 retweets and 61,000 likes so far!
I'm aware now of more and more books with trans and nonbinary characters, so that gap in our picture book library is growing smaller and smaller. In the same month that the Kickstarter edition of Introducing Teddy came out, a book called The Gender Fairy by Jo Hirst was published. I've just ordered a book called Meet Polkadot by Talcott Broadhead, about a nonbinary child. I'm wildly enthusiastic about the middle grade novel George by Alex Gino. There are even more choices when you get to YA, though of course we still need more.
I'm still unhappy about how few picture books I have with disabled characters in them, but I know what's possible now. If I can't find it, I'll write it. Perhaps I'll write the book I needed when I was little, about an amputee. I know now that I'm a writer, and that my passion is to help my children see their family, their community and their world in the books they read. Diversity isn't a buzz word or a trend. It's real life, and it's coming to a picture book near you. 
About Jessica Walton
Jessica Walton lives with her wife and two children in Melbourne, Australia. Jess wanted diverse books to read to her young son, particularly because he would grow up with queer parents, one disabled parent, and a trans grandma. She couldn't find picture books with trans characters, so she wrote Introducing Teddy. A former secondary teacher, Jess is passionate about literature, board games, the ukulele, and funky prosthetic legs (her current one features green dragon scales).
www.facebook.com/introducingteddy
Credits
This commission was supported by the Australia Council for the Arts.
The Writeability program is a partnership between Writers Victoria and Arts Access Victoria made possible by the generous support of the Lord Mayor's Charitable Foundation and Grace Marion Wilson Trust.