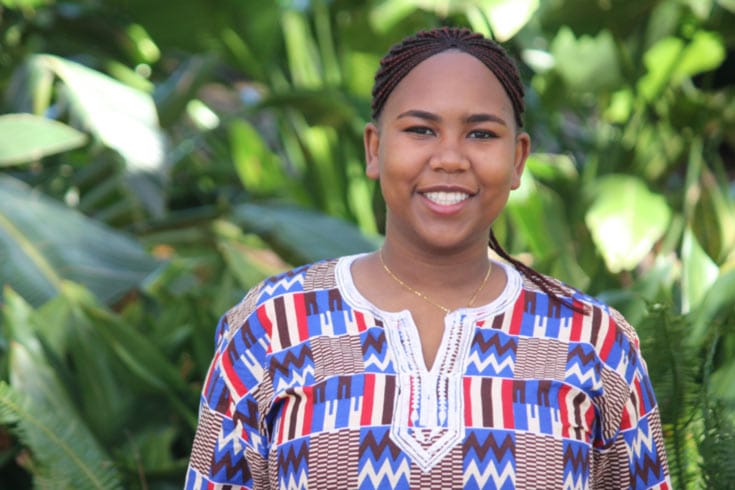 The 2017 Deborah Cass Prize for Writing has been awarded to Rafeif Ismail, a 23-year old Perth woman from a Sudanese background.
The Prize, which awards $3000 plus a three-month mentorship with an established writer to an unpublished writer from a migrant background, was presented by lawyer and writer Nyadol Nyuon, who was a Sudanese refugee, at an event in Melbourne.
Ms Ismail's winning entry, Almitra Amongst Ghosts, is part of a larger collection in development, String Theory, that follows three Sudanese refugee youths through their coming-of-age in Australia, and explores Sudanese storytelling techniques through western writing styles.
In their statement, the judging panel said, 'In Almitra among the Ghosts Rafeif Ismail has invented a new style of poetry-prose that incorporates her home culture with English in a startling way. We were astonished by the voice and the power of the writing. She writes with skill and restraint and her work reads like poetry — each word is there for a purpose.'
Rafeif Ismail said, 'I wish to highlight the myriad of experiences of refugee youths while exploring the differences and similarities between Sudanese and Australian cultures. I hope to write a work for third-culture youths, who are left out of the mainstream literature of their new home and not represented by the stories of their countries of origin.'
The Prize judges, writers Christos Tsiolkas, Alice Pung and Tony Ayres, noted the exceptionally high quality of a significant number of works entered in 2017. They also commended two runners up:         
Sivashneel Sanjappa, The Journey Home
''The Journey Home' was exciting; it felt like a story we hadn't heard. It introduced us not only to an experience of migration but to a whole universe. It managed to blend folklore with a really gritty modern story.'       
Jessie Tu, Another Country
'Polished and elegant, written with insight and maturity, Another Country was a deeply moving piece, full of love for a family.'
The Prize was created in 2015 in memory of Deborah Cass (1960-2013), an international law academic and writer, whose grandparents were Jewish migrants from Eastern Europe.
Dan Cass, brother of Deborah Cass, said 'The Prize went national this year and grew substantially, with 91 entries, up from 39 in 2016, which is a great sign that there are many writers emerging in Australia's migrant communities.'
Angela Savage, Director of Writers Victoria, hosts of the Prize, said: 'Writers Victoria is proud to support this competition because it promotes diverse voices that enrich Australian literature.'
Moreno Giovannoni was the inaugural winner in 2015, for his Tales of San Ginese, which will be published by Black Inc. in 2018. Jean Bachoura, a migrant of Syrian background, won the 2016 Prize.
The winning manuscript is presented to Black Inc publishers for consideration and there is also the opportunity for publication of the winning excerpt in Mascara Literary Review.