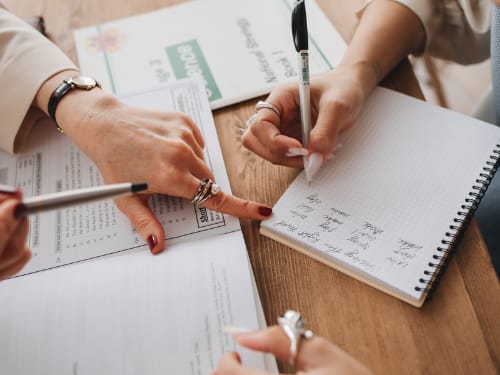 Getting a contract is exciting, whether it's for a book, a workshop, or a feature article. If you are offered a contract it is important to understand fully what you are agreeing to before accepting.
What is a contract?
Contracts are legally binding documents. A contract is the legal document that establishes the relationship between the creator of a work and the person or organisation that will produce or publish the work.
It is recommended that you insist on written documentation, preferably signed and witnessed. Legal agreements can be confusing, so it is important that if you don't understand something, to request professional legal help.
While verbal agreements are also legally binding, they can often be hard to prove.
TIP: Always keep records of everything; the copies you make will save you time and money if a legal dispute arises. This is useful for confirming what has been agreed upon, as well as good record-keeping.
Getting professional legal advice
Writers Victoria does not give advice on contracts, but we can help steer you in the direction of people who can help.
Australian Society of Authors
ASA run a legal advice service called Authors Legal, which provides low-cost legal advice on all publishing, agent, and distribution agreements, along with advice on copyright and contractual issues facing authors and illustrators.

Alex Adsett Literary
Alex Adsett offers advice to authors who need help negotiating a publishing contract. They can assure that agreements are consistent with Australian publishing standards, and also help negotiate directly with your publisher, close a subsidiary rights deal, or review existing contracts.

The Arts Law Centre of Australia
Arts Law is Australia's independent national community legal centre for the arts. They provide free or low cost specialised legal advice, education and resources to Australian artists and arts organisations across all art forms. They charge for assessing a contract; however they offer free advice over the telephone.
Literary Agents
Another option is to consider approaching a literary agent to represent you. They will then negotiate the terms of your contract on your behalf.
Elements of a contract
A contract needs to have four elements before it is legally binding:
An offer. For example, a publisher offers a writer $500 to use the writer's work in a magazine.
An unconditional acceptance of the offer. If the writer asks for ten free copies of the magazine, this is a counter offer, and the contract is not made until this is accepted or another arrangement is negotiated and agreed by both parties.
A 'valuable consideration' must be exchanged. In this example the publisher has the benefit of using the writer's work and the artist receives $500. "Valuable consideration" does not have to be financial (a free copy of the magazine could be enough) but the writer needs to be satisfied that this reflects the value of their writing.
An intention to be legally bound. Both the publisher and the writer should understand that they are creating a legally binding contract.
Book publishing contracts
A book publishing contract balances the substantial investment of the writer's work with the financial and professional investment from the publisher. The contract will detail such things as royalty payments and the rights the publisher wants the licence to use. Once you receive a contract, seek legal advice or approach a literary agent about getting representation.
You want the best deal you can get and the publisher is also seeking the best deal for themselves, so it is important that both parties are happy with the contract.
Further resources