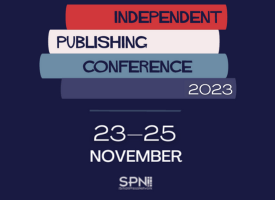 The 2023 Independent Publishing Conference will be held over three days from 23–25 November at Melbourne's Wheeler Centre and livestreamed online.
Thursday 23 November will be Research Day, with the theme 'Renew and Revive', co-ordinated by Dr Claire Parnell, Dr Katherine Day and Caitlin Parker (all from the University of Melbourne). The keynote speaker will be Associate Professor Sandra Phillips from Western Sydney University.
Friday 24 November will be the Industry Day. Panel sessions will cover the most pressing topics in publishing today. SPN's general manager Tim Coronel will be interviewing our international guest Mike Shatzkin in New York.
The winner of SPN's Book of the Year Award will be announced after Friday's conference sessions in an event hosted by The Wheeler Centre under its Next Big Thing banner.
Saturday 25 November will be devoted to practical workshop sessions. 
For more information about the conference and how to book tickets, visit the Small Press Network website here.